Spring 2022 Wine Club Release Party
May 14, 2022 - May 15, 2022
Spring 2022 Wine Club PickUp Party (SOLD OUT)
Farm-to-Fork in the Garden (SOLD OUT!
If you have not already reserved your spot, we kindly invite you to our farm-to-fork garden pickup party on Saturday (SOLD OUT) May 14th and Sunday May 15th (SOLD OUT)from 11am-4pm! The farm-to-fork themed pick up party will take place in the garden, and will feature wines paired with locally grown and prepared food by Kerry Dolan at The Grazing Grouse, live music by The Listen Here Band on Saturday and The Tony Quinn Band on Sunday, and your spring 2022 selections available for pickup. The pairing menu will consist of the following locally sourced and crafted foods, with the goal of highlighting the bounty of El Dorado County's diverse and exceptional local food and wine:
Menu
-Welcome glass of our recently released 2020 Lava Cap Chardonnay
-2020 Lava Cap Sangiovese (91pts Wine Enthusiast) paired with Tomato Confit & Fiscalini aged cheddar, local micro greens, and organic rosemary cracker.
-2018 Lava Cap Syrah paired with mushrooms from Cool Mushroom Farms, local shallots, El Dorado crispy prosciutto, and Fiscalini Smoked Cheddar.
-2019 Lava Cap Estate Cabernet Sauvignon paired with dark chocolate, fresh cherries, and blackberries.
-Additional current releases and club releases available to sample, including our 2019 Reserve Zinfandel which was just awarded 93pts by Wine Enthusiast Magazine, and included in the list of this years best Zinfandels by Wine & Spirits Magazine!
The event is $10/ticket for wine club members (max 2 tickets), and $25 for guests (max 2 guest tickets). Children and designated drivers are $10. RSVP required. Space is limited, so call the winery at 530-621-0175 as soon as possible to reserve your spot!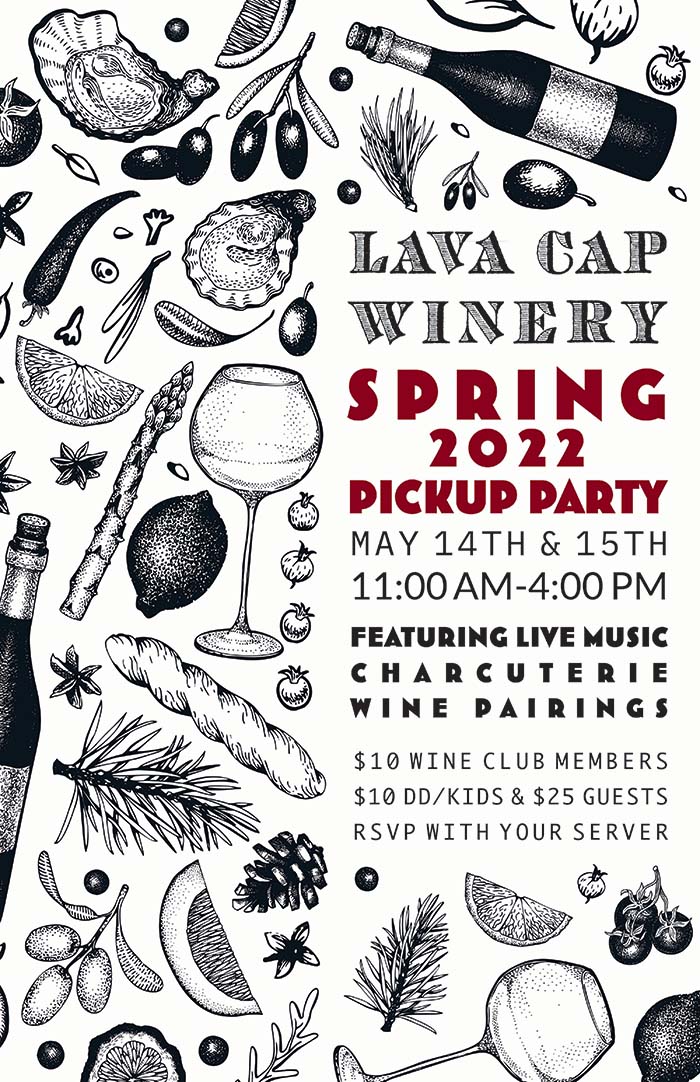 « Back to Events